KO-6
COLLIMATING LENS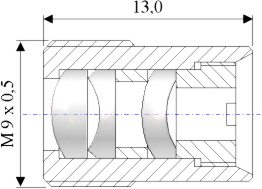 KO-6 is designed for diode laser collimation. Diode laser protective glass thickness preferably not to exceed 0.25mm.
Focal length [mm]
Clear aperture [mm]
Working distance [mm]
Wavelength range [nm]
RMS WFE
Beam size at 50m (1/e²) [mm]
Transmittance
Operating temperature
Optic material
8.0

5.1
1.5
630...1550
<0.1
<15
>95%
-20°C to +150°C
glass, AR coated
Laser Diode
Wavelength Range
630 to 1550 nm
Operating Temp.
-20 to 150 °C