Fiber-Coupled Laser Diodes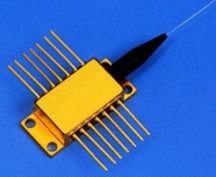 FLC offers fiber coupling of single mode and multimode laser diodes into single mode and multi mode fibers for all laser diodes on our website. We package in uncooled or cooled packages.
Below are some examples of single mode and multimode fiber-coupled laser diodes with less than 1W. Higher powers can be found under High Power Laser Diode Modules with Fiber Output.
Model
Wavelength
Power
Power Range
Operating Temp.
Package