mirSense
Quantum Cascade Lasers (QCLs) from mirSense
Quantum cascade lasers (QCLs) are intersubband semiconductor lasers emitting around a center wavelength ranging from the mid-infrared.
The QCLs designed and manufactured by mirSense are high-powered diodes (typically watt-level) emitting in the main transmission bands of the atmosphere (4.0µm, 4.6µm, 4.8µm, 9.xµm, 10-17µm). They are Fabry-Perot laser sources operating in the quasi CW regime (pulsed operation down to few tens of nanoseconds and high frequency above MHz) at room temperature. The high average power and wall-plug efficiency of this product is perfectly suited for counter-measure and other defense applications.
MirSense offers a full range of ITAR-free products from chip on submount manufacturing to full turnkey systems. For OEM system integrators, mirSense manufactures a packaged diode plugged to a top-notch PCB driver that includes laser control, thermal management and security and safety. This packaged diode is the "POEM" system (POEM stands for PowerMir OEM system).
The QCLs from mirSense are proudly manufactured in first-class clean rooms in the heart of the French optics valley on the "Saclay Plateau" near Paris. MirSense focuses on serving industrial customers that require a high level of laser reliability to ensure good batch-to-batch quality for series-productions. Customers will especially find that mirSense offers a very high beam quality.
PowerMir HHL Package
For clients who wish to purchase only the laser without the driving electronics, all of our laser wavelengths are available in a packaged version alone. Our standard offer is in an HHL package including the thermal regulation and a collimating lens. We are used to developing and supplying custom packages as well. For specific projects, mirSense can also supply QCL chips on submounts on demand.
Features:
Standard high heat loads package (9-pins HHL) or custom package on request
Integrated Peltier TEC cooler
Integrated collimating lens (High beam quality, M²<1.5)
Possibility of chips on submount delivery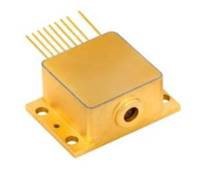 PowerMir HHL Package with Driver
The PowerMir OEM system (POEM) is meant for customers who wish to integrate a QCL high-powered source inside their system (for example a DIRCM system). Each POEM is a compact light-weight and robust system made up of a packaged QCL laser plugged to a driving electronics board.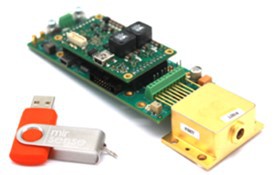 This board is embedded with unprecedented functionalities such as laser driver, complex programmable modulation schemes and of course full laser protection. The onboard firmware protects the laser from burning through temperature management of the TEC element. The customer can communicate with the board through MODBUS commands and a TTL trigger allows the customer to modulate each board with confidentiality. Several POEM systems can be combined to combine and increase the total optical output power.
Features:
Compact stand-alone OEM product for system integration
Powerful FPGA-based architecture
MODBUS communication for system integration and user-friendly PC software for configuration and tests
External TTL for synchronization
Cost effective for series-productions
PowerMir Turnkey HHL Package with Driver
For lab experiments, we offer a plug-and-play easy to use turnkey system that includes laser heads, a driver and the cooling mechanism as well as a user-friendly PC software. In order to accommodate you in your future projects, the mirSense turnkey platform is very modular. It's able to control simultaneously 2 different laser heads (with different or identical wavelengths).
Features:
Plug-and-play system perfect to use inside a lab
Stand alone system including: laser head, driver, heat exchanger
User-friendly PC software allows users to:

Turn ON/OFF the laser
Easily change the operating mode (power, modulation)

External TTL for synchronization
Red laser beam to facilitate alignment